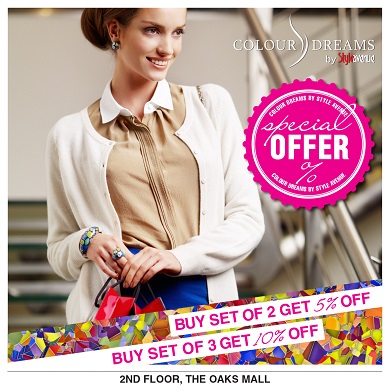 Match Collections at Colour Dreams by Style Avenue
Now through June 30, 2017
Style Avenue USA launches a special event in our Colour Dreams jewelry boutique at The Oaks! We encourage our clients and fans of our brand to bye our jewelry in sets.
The philosophy of the brand is to present our jewelry product by collections. And each of collection means a special style, mood and image, material and technology. The collections are, on the one hand, on the peak of fashion trends, and on the other hand, have their distinguishing "eternal" style.
The best way to match our jewelry is to have a set of matching items. We encourage our clients to have sets of our jewelry by offering a special term for set purchasing: 5% off for purchase of 2 matching items and 10% off for 3 or more matching items.
Please visit the store and ask the store manager for more detailed information.