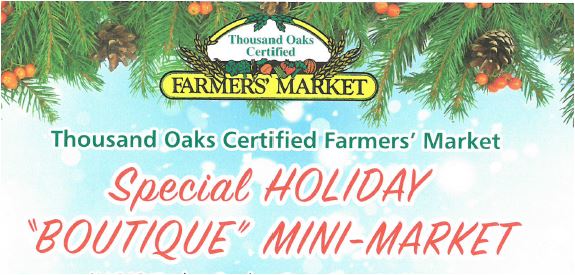 Special Holiday Boutique Mini-Market
November 30, 2017 through December 21, 2017
Thousand Oaks Certified Farmer's Market
Special Holiday Boutique Mini- Market - 4 Thursday's Only!
The Oaks Outdoor Village
November 30 12pm - 5pm
December 7 12pm - 5pm
December 14 12pm - 5pm
December 21 12pm - 5pm
A sampling of your favorite farmers bringing their wares inside the mall for the holidays. Fresh produce, bakery items, gift packs and stocking stuffers will be available!
Close parking located on the south side of the AMC Theaters and at the west mall entrance by Arhaus.
Participating Vendors:
Underwood Family Farms
Rodriguez Strawberries
Bills Bees
Novy Ranch
CA Sunrise
Oosterveer Orchids
Shepard Farms
Martian Vineyard
Apricot Lane Farm
Mi Refugio Nursery
Non-Certified/Processed Foods:
You Bite German Sausages
Timber Canyon Ranch
Topanga Beef Jerky
Mom's Products
Yankee Doodle Bakery
Jeanette's Edelweiss