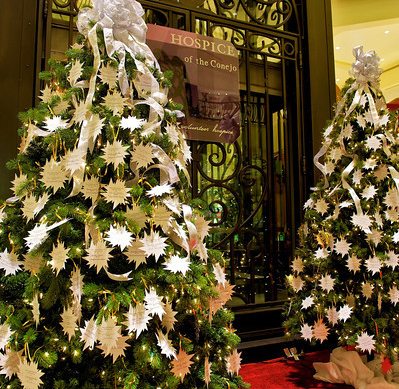 Hospice of the Conejo's Tree of Life
Now through December 24, 2017
The Tree of Life stands as a symbol of love and caring during the holiday season. Dedicate a star ornament in the memory of, or in honor of, a loved one. The star will hang on the Tree of Life from November 24th- December 24th.
To donate a star ornament
Click Here
and scroll through to the Tree of Life information and register on line or you may call Hospice of the Conejo offices at (805) 495-2145 or visit our Tree of Life location at the Oaks Shopping Center where a volunteer will assist you as you prepare your star ornament. The Tree of Life is located on the lower level near Starbucks in the Macy's Mens & Home Store Court.
Donations are appreciated.
Join us on Thursday December 14th, 2017 at this year's Reading of the Names ceremony at 6 pm on the Food Court patio at the Oaks Shopping Center. We will read the names of those who have had a star ornament dedicated in their memory or in their honor. Light refreshments will be served.