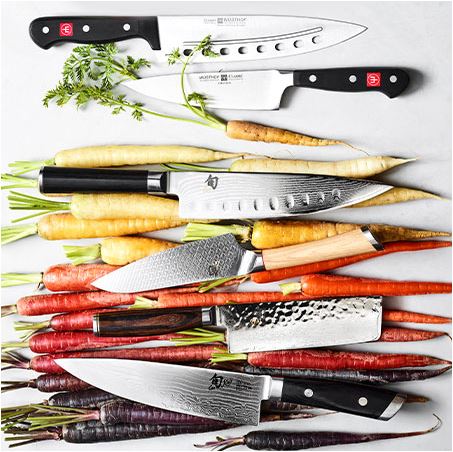 Williams Sonoma
Now through July 29, 2018
Sunday, July 1st - Cooking with a Salt Plate (includes salt plate)
11:00am $30 per person
You'll be amazed what you can cook on a salt plate. Chocolate cookies, anyone? Join us for a fun class where you'll larn everything you need to know about preparing food on this versatile plate that's made from mineral-rich pink Himalayan salt.
Sunday, July 8th - Knife Skills
11:00am
Learn how to chop, slice and dice like a pro. We'll discuss the differences between German and Japanese knives and give you a chance to 'test drive' them as you practice your chopping skills. Then the instructor will transform your cut-up ingredients into a vegetable and noodle bowl tossed with our new Flower Child vinaigrette.
Sunday, July 15th - Philips Carefree Summer Fun
11:00am $10 per person
100% of ticket sales benefitting No Kid Hungry
In this fun class we'll make some easy, family-friendly recipes using Philips Airfryer and Smokeless Grill. A healthy spin on chicken tenders and sliders, anyone?
Sunday, July 22nd - Summer Favorites in the Instant Pot
11:00am $30 per person (includes The Essential Instant Pot Cookbook)
We're back with more great recipes for that runaway hit, the Instant Pot. Our Fingering Potato Salad and Strawberry Rhubarb Compote (served with ice cream) are perfect for summer gatherings.
Sunday, July 29th - Destination Portugal: Paella (includes a Paella Pan)
11:00am $30 per person
Looking to escape with us on a culinary journey to Portugal as we cook paella, a classic rice dish that's sure to impress a hungry crowd.