Hospice of the Conejo's Tree of Life
November 23, 2018 through December 24, 2018
|
Lower Level near Starbucks
---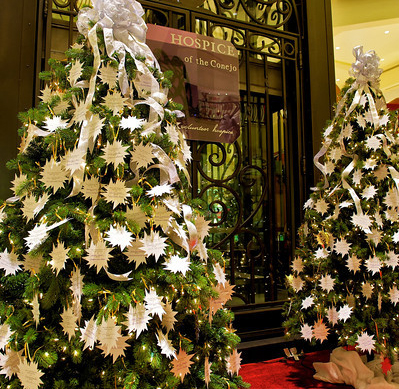 The Tree of Life stands as a symbol of love and caring during the holiday season. Dedicate a star ornament in the memory of, or in honor of, a loved one. The star will hang on the Tree of Life from November 23rd- December 24th.

To donate a star ornament Click Here and scroll through to the Tree of Life information and register on line or you may call Hospice of the Conejo offices at (805) 495-2145 or visit our Tree of Life location at the Oaks Shopping Center where a volunteer will assist you as you prepare your star ornament. The Tree of Life is located on the lower level near Starbucks in the Macy's Mens & Home Store Court.

Donations are appreciated.

Join us on Thursday December 13th, 2018 at this year's Reading of the Names ceremony at 6 pm on the Food Court patio at the Oaks Shopping Center. We will read the names of those who have had a star ornament dedicated in their memory or in their honor. Light refreshments will be served.
Pray For Thousand Oaks
Now through November 30, 2018
We all share in the grief of the events that have affected our community with the incident at Border...
Local Fires - Resources
Now through November 30, 2018
Due to the fire in the area, we are keeping our doors open for our community, but some individual st...