A Year with Betty Gold - Private Screening
---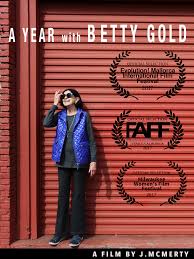 A Year with Betty Gold follows LA based abstract artist Betty Gold, a former Miss Texas who went on to blaze a trail for female artists, especially in the field of large scale sculpture. The film chronicles her incredible life as she shares her insights on love and life while pulling back the curtain on the struggles of a contemporary artist.

CMATO Members: Free
Non-Members: $10

Screening takes place surrounded by Betty Gold's work - part of CMATO's permanent collection.
WATCH TRAILER >
Special Holiday Boutique Farmers Market
Now through December 20, 2018
Thousand Oaks Certified Farmer's Market Special Holiday Boutique Market - 4 Thursday's Only! West si...
$10,000 Grand Prize Holiday Giveaway
Now through December 20, 2018
Have you had something on your wish list that you neverended up getting? Well keep it on there becau...