Exhibit - RISK et al: Suburbs Edition
---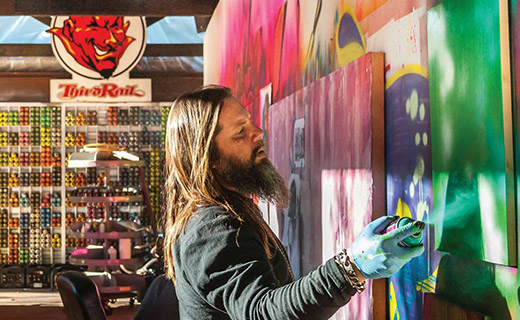 About RISK:
Kelly Graval, the multi-talented Fine Artist, Illustrator, and Graffiti artist known as RISK, has been synonymous with the Los Angeles art community for decades. With a career spanning 30 years, RISK has solidified his place in the history books as a world-renowned graffiti legend. A Thousand Oaks citizen, Gravel is committed to helping CMATO become part of the social fabric of the Conejo Valley region.

The goal of this exhibition is to re-examine mark making in the modern era. The exhibition will feature collaborations with other legends of this art form as they transform the museum to a work of art. The exhibition will feature installations, infinity experiences, and framed work that confronts the commerciality of popular culture.
Become a CMATO Member! >
It's bird! It's a plane! Its...
Now through January 20, 2019 | JCPenney Portrait Studio
Join JCPenney Portraits for a super photography event! It's a bird! It's a plane! It's...SuperKid! G...
Looking for a night out with ZERO guilt?
January 19, 2019 | GYMBOREE PLAY & MUSIC
Date Night with zero guilt! Saturday, January 19th 5:00-8:00pm Drop off your little ones with Gymbor...