Now through March 10, 2019
|
upper level near JCPenney, across from Williams Sonoma
---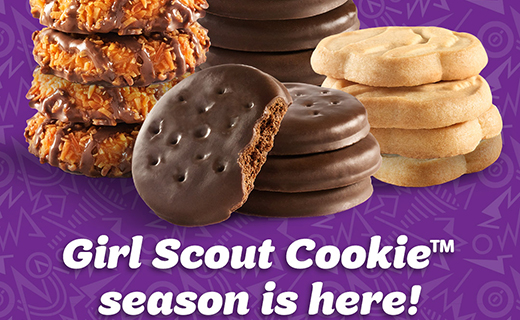 It's Girl Scout Cookie™ Season!
Look for the brand new Girl Scout offices on the upper level near JCPenney, across from Williams Sonoma.
Cookies will be on sale in this location February 1 – March 10.
Fridays: 3pm to 6pm February, 1,8, 15, 22, March 1, 8
Saturdays: 10am to 8pm February 2, 9, 16, 23, March 2, 9
Sundays: 10am to 8pm February 3, 10, 17, 24, March 3, 10

Do you have a favorite Girl Scout Cookie you crave all year long?
Girl Scouts S'mores®
Thin Mints®
Caramel Delights/Samoas®
Peanut Butter Patties®/Tagalongs®
Shortbread/Trefoils®
Do-si-dos®/Peanut Butter Sandwich
Lemonades™
Savannah Smiles®
Thanks-A-Lot®
Toffee-tastic®
Caramel Chocolate Chip
CookiesPower Amazing Adventures for Girls
When you buy a box ofdelicious Girl Scout Cookies, you're powering amazing, year-round experiencesfor every G.I.R.L. (Go-getter, Innovator, Risk-taker, Leader)™ extraordinairein your community who sells them—that's right, proceeds stay local and arereinvested in girls!

Big picture: as a cookiecustomer, you're actually helping the next generation of female entrepreneursget an important taste of what it takes to be successful—teamwork, planning,and a positive outlook. Beyond that, you're actually narrowing the gender gapin entrepreneurship by nurturing girls' skills early and often. How awesome isthat?

Whether it's a trip to abreathtaking place she's never been, a STEM (science, technology, engineering,and math) project that will change the way she thinks about the world, or anopportunity to attend Girl Scout camp and revel in the power of the greatoutdoors, at Girl Scouts every experience helps her unleash her  G.I.R.L.spirit to do amazing things for herself and her community and grow into theincredible woman she's destined to become.

But wait, there's more!By selling cookies, girls develop five essential skills—goal setting, decisionmaking, money management, people skills, and business ethics—all of which helpthem succeed today and in the future. They grow their confidence and practiceleadership, too.

What an experience!That's why the Girl Scout Cookie Program focuses on her—because it's about somuch more than delicious treats. It's about supporting girls' success throughthe biggest girl-led entrepreneurial program in the world—SWEET!
Find Cookies Now >
Kids Zone Event - Charming Bead Bash
March 9, 2019 11:00 AM - 12:00 PM | JCPenney
Help us celebrate Barbie's 60th! Kids will get to make a beaded necklace andbracelet, or two bracele...
5th Annual Luggage Trade-In Program
Now through February 28, 2019 | PENINSULA LUGGAGE & GIFTS
A Case for Giving Join Peninsula Luggage in their commitment to helping those in need. Receive a $10...