Exhibit - RISK et al: Suburbs Edition
---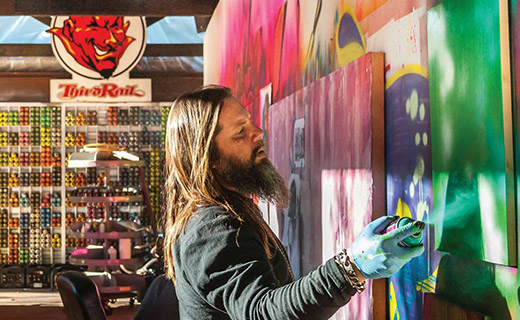 About RISK:
Kelly Graval, the multi-talented Fine Artist, Illustrator, and Graffiti artist known as RISK, has been synonymous with the Los Angeles art community for decades. With a career spanning 30 years, RISK has solidified his place in the history books as a world-renowned graffiti legend. A Thousand Oaks citizen, Gravel is committed to helping CMATO become part of the social fabric of the Conejo Valley region.

The goal of this exhibition is to re-examine mark making in the modern era. The exhibition will feature collaborations with other legends of this art form as they transform the museum to a work of art. The exhibition will feature installations, infinity experiences, and framed work that confronts the commerciality of popular culture.
Become a CMATO Member! >
Matilda Book Drive
Now through March 31, 2019 | The Open Book
Roald Dahl's Matilda is a true underdog's story of a genius girl who uses her wit, intelligence, and...
Easter Bunny Photos
March 28, 2019 through April 20, 2019
The eggs are in the basket and the chocolates are wrapped, now it's time for your bunny snap! Round ...