Exhibit - RISK et al: Suburbs Edition
---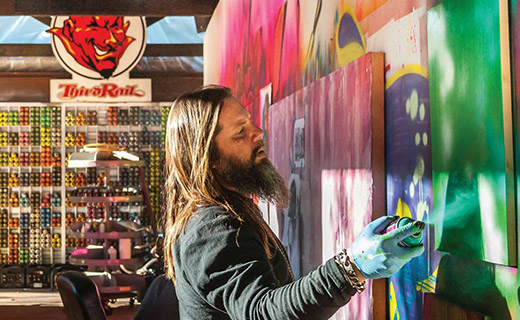 About RISK:
Kelly Graval, the multi-talented Fine Artist, Illustrator, and Graffiti artist known as RISK, has been synonymous with the Los Angeles art community for decades. With a career spanning 30 years, RISK has solidified his place in the history books as a world-renowned graffiti legend. A Thousand Oaks citizen, Gravel is committed to helping CMATO become part of the social fabric of the Conejo Valley region.

The goal of this exhibition is to re-examine mark making in the modern era. The exhibition will feature collaborations with other legends of this art form as they transform the museum to a work of art. The exhibition will feature installations, infinity experiences, and framed work that confronts the commerciality of popular culture.
Become a CMATO Member! >
Story Time
Now through May 23, 2019
Join us for Storytime every 3rd Friday of the Month at 10am in the JCPenney Court. Next Storytime w...
So Cal Etsy Artisan Market
June 8, 2019
Join us for an amazing day of handmade fun! Local Designers, Live Art, Handmade Vendors, and Much Mo...