---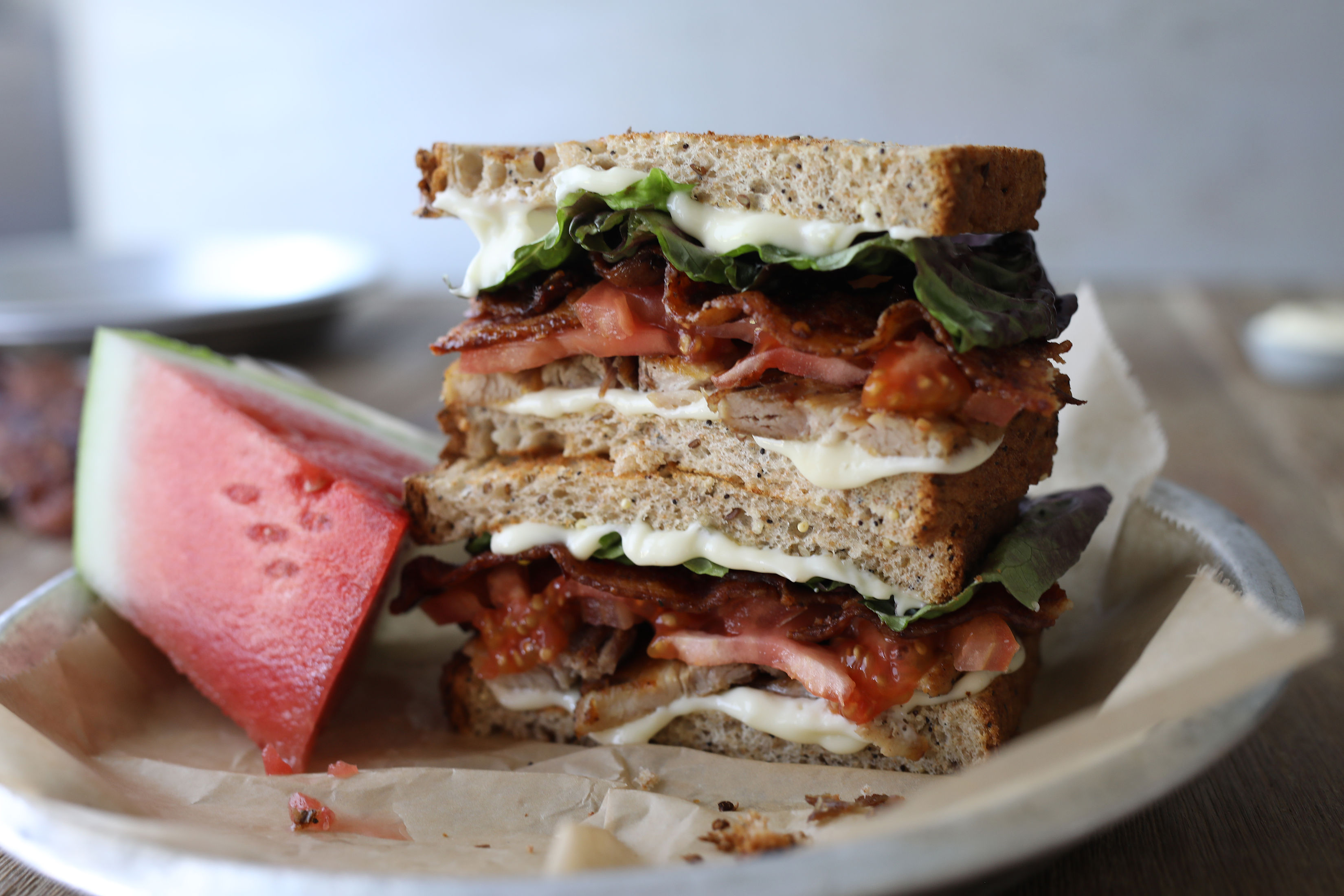 Our menu honors the people who, for generations, have been growing our food, the American farm families who work year-round tending to the land, seeds and crops that become the food we serve our families. We are so excited to share these new items with you!
Goat Cheese + Pepper Jelly
cypress grove goat cheese topped with our housemade pepper jelly + served with walnut flatbread crackers

Heirloom Bean Salad
zürsun idaho heirloom beans, sweet peas, red onion, sweety drop peppers, feta + fresh herbs, tossed in our lemon vinaigrette, served chilled

Green Goddess Salad
little gem lettuce, watermelon radish, candied almonds, a crispy squash blossom from fresh origin farms stuffed with goat cheese, fresh herbs + housemade green goddess dressing

Asparagus Soup [april-june]
made from scratch with fresh spring asparagus

Pork Belly BLT
beeler's family farm pork belly, candied bacon, little gem lettuce, tomato + black pepper mayo served on whole grain wheat bread

Pork Belly N' Beans
beeler's family farm pork belly slow-braised in bone broth, served with warm heirloom beans, topped with pickled mustard seeds, green onion crumble + grilled country toast

Vanilla Bean Custard
fresh vanilla bean + cream, topped with local hive honey, candied almonds, bee pollen + fresh berries

Coconut Shrimp Ceviche
cured in fresh citrus juices + coconut milk with bell peppers, jalapeno, onion, tomatoes, cilantro + sea salt, served with housemade taro root chips

Black Bean Jackfruit Tostada
topped with charred corn, avocado, feta, pickled jalapenos, roasted tomatillo salsa, shredded cabbage, fresh radish, cilantro + spicy crema

Hangover Burrito (served on weekend brunch 9am-2pm)
housemade chorizo sausage, scrambled eggs, cajun fries, black beans, jack + cheddar cheeses, wrapped in a flour tortilla, topped with tomatillo salsa, adobo sauce, sour cream, avocado + cilantro

Almond Butter French Toast (served on weekend brunch 9am-2pm)
local hive honey, almond butter cream cheese, candied almonds, bee pollen, fresh berries + whipped cream

House Libations

Spiked Sweet Peach Tea
stillhouse original whiskey, peaches, housebrewed tea, tangerine lace + soda

Gin + Elderflower Tonic
aviation gin, st-germain, flower petals, lime + soda

Carrot + Cucumber Tonic
cucumber rain vodka, fresh carrot juice, turmeric, housemade sweet + sour + soda

Watermelon Margarita
lunazul reposado tequila, fresh watermelon, salted rim
Paint the Town Pink
October 1, 2019 6:00 PM - 8:00 PM
SAVE THE DATE! Join us for a fun evening out and help support breast cancer awareness and education....
Farmers Market
Now through December 19, 2019
Join Us at the Thousand Oaks Farmers' Market every Thursday! 12:00-5:00pm East Parking Lot Since 199...