---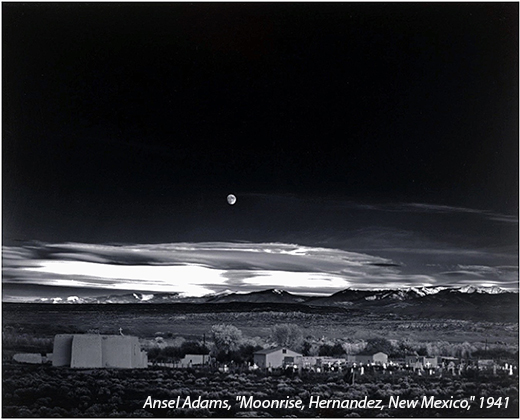 Highlights from the Lawrence Janss Collection
Works by one of the world's most widely recognized and acclaimed photographers will go on view as part of a limited engagement at the California Museum of Art Thousand Oaks (CMATO). "In Focus: Ansel Adams Highlights from Lawrence Janss Collection" features several of the artist's iconic photographs, on loan from entrepreneur, community leader and CMATO Board of Directors member, Larry Janss. "In Focus," runs February 21 through March 24, 2019. Admission is free (a $6 donation is suggested).

The exhibition includes Adams' elegant, detailed images of nature including his seminal work "Moonrise, Hernandez, New Mexico," described by art historians as "a perfect marriage of straight and pure photography." In this intimate exhibition, museum visitors will have the opportunity to examine a curated selection Adams most iconic works including, "Clearing Winter Storm, Yosemite National Park"; and "Moon and Half Dome," widely considered to be the artist's most enduring image of Yosemite National Park.

"As a cultural institution, CMATO works to bring dynamic viewing experiences to our visitors and to encourage conversation around contemporary issues. "In Focus" accomplishes just that. Our goal is to highlight Adams contribution to American photography and his continued influence on photographers today, including his influence on our benefactor Larry Janss," said Tish Greenwood, Executive Director, CMATO.

Janss, an accomplished photographer and founder of the Thousand Oaks-based Four Friends Gallery, met Adams in 1967 and began participating in the Ansel Adams Summer Photography workshops. He would go on to assist the renowned photographer with numerous photo projects over the course of Adams' life.

"While many have come to know Ansel Adams' work through books, postcards and calendars, few have actually seen his original images. "In Focus" gives the public an opportunity to witness works by one of the world's most renowned photographers and to experience the majesty and wonder that only his photography can evoke. I hope this exhibition will foster appreciation for Ansel not only as an artist but as a concerned citizen, an inspiring mentor to photographers like myself, and one of the most important conservationists of all time," said Janss.

With a career that spanned more than five decades, Adams (1902-1984) became one of America's most beloved landscape photographers and a respected environmentalist who influenced the course of 20th century photography through sumptuous and technically precise images, along with his efforts to elevate photography to fine art – comparable to painting, sculpture and music.

Adams developed a system for creating luminous, vivid landscape photographs in sharp contrasts of black and white. He then printed his film negatives with meticulous attention to craft. Adams'manner of framing and capturing both magnificent, large-scale landscape formations and small natural objects created icons of the American wilderness.

In addition to his photographic legacy, Adams was a staunch environmentalist who worked tirelessly alongside The Sierra Club and The Wilderness Society to defend wild spaces and establish new national parks. In recognition of his commitment to conservation, President Jimmy Carter awarded Adams the Presidential Medal of Freedom in 1980.
Exhibition Details
"In Focus" is curated by Lynn Farrand, CMATO Senior Curator and Larry Janss. The exhibition is presented by Wells Fargo – Valdez Wealth Management Group.

Visitors are encouraged to use #anseladamsatcmato to share their exhibition experiences on social media.

Museum hours are Wednesday through Sunday, 12:00 to 7:00 PM. CMATO is located on the second level of The Oaks Mall in Thousand Oaks.

About CMATO:
The California Museum of Art Thousand Oaks (CMATO) is a cultural institution dedicated to engaging, educating and uplifting the human spirit through the palette of art. Established in 2008, the museum showcases established and emerging contemporary artists, with a unique focus on participatory art. As part of its mission to connect people to creativity, ideas and to each other, CMATO features rotating temporary exhibitions, artist lectures and educational programs that foster discussion, participation and an appreciation for the visual arts. To learn more or to become a museum member, visit http://www.cmato.org
BECOME A CMATO MEMBER >
Story Time
Now through July 25, 2019
Join us for Storytime every 3rd Friday of the Month at 10am in the JCPenney Court. Next Storytime w...
Spirit of Aloha
July 25, 2019 through July 27, 2019 | PAPYRUS
Celebrate the Spirit of Aloha at Papyrus! Music, Refreshments and fun! Hope to see you there!