Empathy: Beneath the Surface
---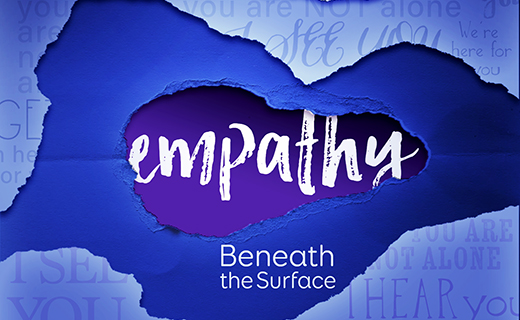 "Empathy: Beneath the Surface" features six highly diverse and distinguished contemporary artists:
Hung Liu, one of the most prominent Chinese American artists working in the United States today. Liu's art explores themes of memory, history, endurance and cultural identity through works that navigate the life-long experiences of immigration and homecoming. Trained as a socialist realist painter and muralist in her native China, she lived through the Mao regime and personally experienced the Great Leap Forward and the Cultural Revolution. During the Cultural Revolution, she worked in the fields for four years, while clandestinely making photographs and drawings of what she saw there. Her works have been exhibited nationally and internationally, and are in the collections of SFMOMA, the Whitney Museum of American Art, the Metropolitan Museum of Art, the National Gallery of Art in Washington, D.C., the Asian Art Museum in San Francisco, among others. Liu is a tenured professor in the art department at Mills College.

Fine art photographer Marjorie Salvaterra, whose cinematic, black and white depictions of women combine glamour, humor and the mundane to make powerful statements about the roles women are expected to play and how they cope. Her highly acclaimed monograph, HER: Meditations on Being Female, traces the psychology of age and gender while challenging notions of femininity and perfectionism. Salvaterra's solo exhibitions include The Griffin Museum of Photography, JDC Fine Art (San Diego), Clark-Oshin Gallery (Los Angeles) and Month of Photography (Los Angeles). She was named one of LensCulture's top 50 Emerging Artists.

Multi-disciplinary artist, curator and Building Bridges International Art Foundation co-founder Marisa Caichiolo, whose visual work encompasses video art installation, painting and sculpture. A native of Argentina, Caichiolo explores the problems and complexities of identity through the construction of symbolic worlds, often using the human body, clothing and skin as metaphors. Her works have been showcased internationally in Brazil, Mexico, France, Spain, Japan, Korea, China and Argentina as well as nationally in New York and Los Angeles.
South African-born painter and sculptor, Simphiwe Ndzube, large-scale, mixed-media collages address life in post-apartheid South Africa but have universal relevancy of resilience and hope. His works are inspired by "swenking" -a Zulu working-class male tradition that combines swanky fashion shows and dance performance to display style and attitude. His solo exhibitions include the Nicodim Gallery (Los Angeles), CC Foundation (Shanghai), Museo Kaluz (Mexico) and WhatiftheWorld (Cape Town). He is the winner of the prestigious Tollman Award for the Visual Arts and recently was named the rising stars to watch from the 2018 Armory show in New York City.

American painter and tapestry designer, John Nava, whose seminal series of tapestry panels, "The Communion of Saints," grace the interior of the Roman Catholic Cathedral of Our Lady of the Angels in Los Angeles. In his Neo-Icons series, politically charged portraits speak on the freedom of expression, personal agency and the empathic message of being heard. Nava's work is found in numerous private, corporate and public collections throughout the United States, Europe and Japan, including the National Museum of American Art in Washington, D.C., the Museum of Contemporary Art (MOCA), Hawaii, and the Triton Museum in San Jose, California.

American filmmaker and National Geographic magazine photographer, Ami Vitale, who has traveled to more than 100 countries to witness and photograph civil unrest and violence in addition to capturing the beauty and enduring power of the human spirit. In her blue chip VR film and immersive VR experience, visitors will be transported to Africa to meet a community that is dedicated to saving wildlife. She is a six-time recipient of World Press Photos, including First Prize for her 2017 National Geographic Magazine story about elephants and First Prize for her work with giant pandas. She is a founding member of Ripple Effect Images, a collective of scientists, writers, photographers and filmmakers with a mission of creating powerful stories illustrating the very specific issues women in developing countries face.
Curated by CMATO Senior Curator, Lynn Farrand, the exhibition will be accompanied by a range of public and scholarly programs, including:
Artist Talks with Lynn Farrand, in which featured artists discuss their empathic approach to art
Participatory space
Virtual Reality Space created by Ami Vitale, in which visitors can virtually care for, and connect with, an orphaned elephant.
CLICK to join CMATO's Mailing List
Download Flyer
Art Talk with John Nava
January 25, 2020 4:00 PM - 5:00 PM | California Museum of Art Thousand Oaks
Best known for his extraordinary commissioned tapestry work in the Cathedral of our Lady of the Ange...
Kids Zone Event - Create a Valentine's Day Desk Box
February 8, 2020 11:00 AM - 12:00 PM | JCPenney
Spread the love just in time for Valentine's Day. The kiddos can create a special box for their v...