Now through March 9, 2020
|

upper level near JCPenney, across from Williams Sonoma
---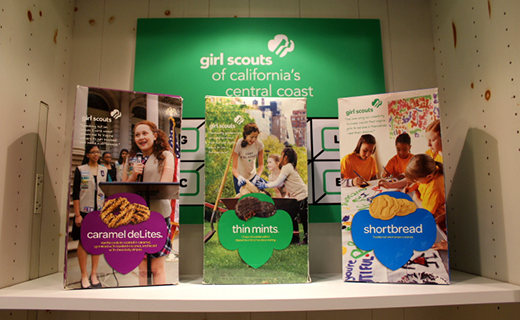 It's Girl Scout Cookie™ Season!
Look for the Girl Scout offices on the upper level near JCPenney, across from Williams Sonoma.
Cookies will be on sale in this location
Monday - Friday 4pm to 6pm
Saturdays 10am to 6pm
Sundays 11am to 6pm
Do you have a favorite Girl Scout Cookie you crave all year long?
Girl Scouts S'mores®
Thin Mints®
Caramel Delights/Samoas®
Peanut Butter Patties®/Tagalongs®
Shortbread/Trefoils®
Do-si-dos®/Peanut Butter Sandwich
Lemonades™
Caramel Chocolate Chip
Girl Scout S'mores®
Thanks-A-Lot®

Cookies Power Amazing Adventures for Girls
When you buy a box of delicious Girl Scout Cookies, you're powering amazing, year-round experiences for every G.I.R.L. (Go-getter, Innovator, Risk-taker, Leader)™ extraordinaire in your community who sells them—that's right, proceeds stay local and are reinvested in girls!

Big picture: as a cookie customer, you're actually helping the next generation of female entrepreneurs get an important taste of what it takes to be successful—teamwork, planning,and a positive outlook. Beyond that, you're actually narrowing the gender gap in entrepreneurship by nurturing girls' skills early and often. How awesome is that?

Whether it's a trip to a breathtaking place she's never been, a STEM (science, technology, engineering,and math) project that will change the way she thinks about the world, or an opportunity to attend Girl Scout camp and revel in the power of the great outdoors, at Girl Scouts every experience helps her unleash her  G.I.R.L.spirit to do amazing things for herself and her community and grow into the incredible woman she's destined to become.

But wait, there's more!By selling cookies, girls develop five essential skills—goal setting, decision making, money management, people skills, and business ethics—all of which help them succeed today and in the future. They grow their confidence and practice leadership, too.

What an experience!That's why the Girl Scout Cookie Program focuses on her—because it's about so much more than delicious treats. It's about supporting girls' success through the biggest girl-led entrepreneurial program in the world—SWEET!
Find Cookies Now
INSTA-WORTHY WALL: Enter For a Chance to Win $500 in Gift Cards!
Now through March 2, 2020
World renowned artist, Kelsey Montague, unveils her latest interactive mural here at The Oaks! Her m...
Easter Bunny Photos
March 20, 2020 through April 11, 2020
The eggs are in the basket and the chocolates are wrapped: now it's time for your bunny snap! Round ...