---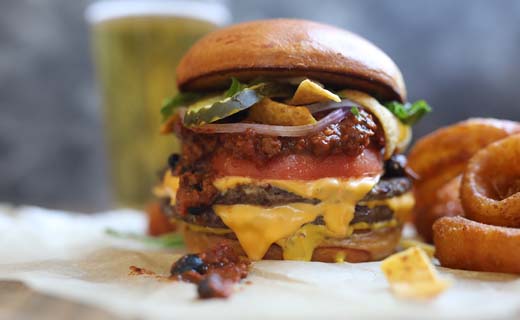 Spring Menu Items
Jumbo Coconut Shrimp
hand-breaded and fried to order, served with sesame slaw + housemade hatch pepper jelly for dipping
Heirloom Bean + Vegetable Soup
zürsun farms heirloom beans + hearty vegetables slow-cooked, topped with walnut pesto
Southern Fried Chicken Salad
hand-breaded chicken breast on a bed of mixed greens with candied walnuts, housemade indigo cornbread croutons, jack + cheddar cheese, hard-boiled egg, charred sweet corn, tomatoes, honey mustard dressing + a side of our nashville hot sauce for dipping
Chicken Cordon Bleu
hand-breaded chicken breasts topped with shaved beeler's family farm applewood smoked ham, melted swiss cheese + whole grain mustard cream sauce, served with red lake nation wild rice, almond + mushroom pilaf
Mushroom Fritos Pie
fritos pie crust topped with our black bean + mushroom chili, charred sweet corn, jack + cheddar cheese, brown rice, walnuts, tomatoes, cilantro relish, sour cream + more fritos
Fritos-Chili Cheeseburger
two grilled quarter-pound beef patties, american cheese, housemade chili, liquid blanket ipa mustard, crunchy fritos, shredded lettuce, tomato, onion, pickles
Country Quiche (Brunch)
baked beeler's applewood smoked ham, bell peppers, onions, jack + cheddar cheese, served with a seasonal fruit cup
Seasonal Pineapple Upside-Down Cake
housemade buttermilk, rum + vanilla cake baked with brown sugar, fresh pineapple + maraschino cherries, served hot with a scoop of vanilla ice cream
Happy Hour Carnitas Tacos (available at Happy Hour)
carnitas, adobo sauce, jack + cheddar cheese, topped with a radish-onion-cilantro relish, queso blanco + roasted salsa
Seasonal Cocktails
Seasonal Watermelon Margarita
lunazul tequila, fresh watermelon, housemade sweet + sour and lime, house salt rim
Build-a-Beer
Blend your own beer with friends. Includes a 64-ounce growler of ankle buster blonde or liquid blanket ipa, served with passionfruit tea, pink lemonade + mango juice. Serves 2-4 people.
Good Morning Margarita (Brunch)
a pitcher of lunazul tequila, fresh cucumber + tomatillo purée, house salt rim, served on the rocks with a side of chile-bbq spiced pork rinds. Serves 2-4 people.
Takeout Dining Available*
Now through April 30, 2020
Please contact the following restaurants for availability and menu: The Cheesecake Factory Chipotl...
School Cents
Now through June 1, 2020
Help a local school earn $250 to $2,500 when you shop at The Oaks and submit your receipts between S...