---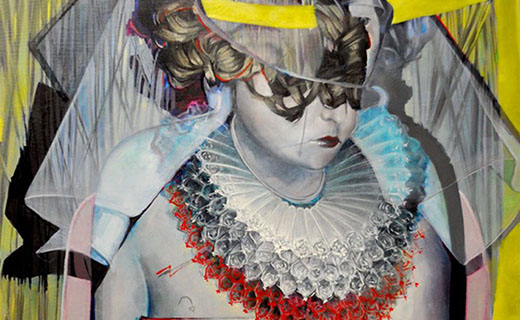 For as long as the concept of beauty has existed, it has been championed and idealized, challenged and questioned. Beauty as a concept -- in art, culture and society -- is ever-changing. It is also increasingly complex, as viewers and artists alike drive for deeper discussion around beauty in contemporary art.

Defining beauty historically depends on the arbiters of taste – who has the prevailing influence on what is fashionable or socially desirable. Beauty was once thought of akin to godliness, a representation of truth and goodness; however since the mid 20th century, originality in works of art were championed, that beauty was regulated to kitsch --- something too sweet and inoffensive for the serious modern artist to pursue.

In Defining Beauty, the exhibiting artists embrace the beautiful with a contemporary perspective that brings depth, delight and dialogue for the viewer.

Featured artist Feeney, known for rich, tactile images that appear to seep off the canvas, eschews passive viewing in favor of an active perceptual experience. Her paintings feature fragments of the female form, layered imagery, saturated color notes and diffused lighting to create an illusory experience that is both complex and colorful, delivering a spectrum of transparency and opacity.

Levinson, a mixed-media artist and educator, creates abstract digital paintings that are influenced by abstract expressionism, the color field and op-art. Her work seeks to reveal the essence of forms, lines and space within balanced, dynamic compositions that depict a common sense of being. Her digital paintings utilize algorithms to control light, color, form and texture.

Multidisciplinary artist Lee expands objects that are minute, delicate and unpredictable, and his meticulous details draw oppositions between parts and entireties in his videos, installations, and drawings. Complexities build up simplicities, fragilities compose stabilities, and nothingness becomes something. Through such works and processes, Lee's creations move very subtly, continuously transform, and gradually disappear as if they never existed.

Defining Beauty will include works by artists Karen Sikie, Martin Etem, Monica Wyatt and Yuliya Lanina. The exhibition will also feature The Memory Project, a participatory installation created by New York-based artist Christine Aaron, in which visitors write significant memories of their lives. The resulting artwork represents a joining of voices, where both participants and the audience can observe and experience the memories of one another.

Jurors for Defining Beauty include Timothy Hengst, professor of the Multimedia Program and Chair of the Art Department, California Lutheran University; Erika Lizee, Chair, Digital, Media and Visual Arts Department, Moorpark College, and Director, Moorpark College Art Gallery; Luke Matjas, Associate Professor and Chair of the Art Department, California State University Channel Islands (CSUCI); and Bob Moskowitz, Chair, Art Department, Ventura College.

Complementing Defining Beauty will be a showcase of local student artists from California Lutheran University, CSUCI, Moorpark and Ventura Colleges. Selected by the jurors, these artists provide an opportunity to view new work by young artists who are in the final stages of earning their fine arts degree.

CMATO's Open Call program was established in 2017 to provide an avenue for artists to reach new audiences through the support of a curated museum exhibition.
VISIT MUSEUM WEBSITE
So Cal Etsy Artisan Market
October 9, 2021
Enjoy various craft and artisan vendors at The Oaks on Saturday, October 9 from 10am to 9pm in the o...
Curbside Pickup Available*
Ongoing
Curbside Pickup Curbside Pickup is available for select retailers and restaurants. Contact the stor...