Jonathan Michael Castillo: Car Culture
---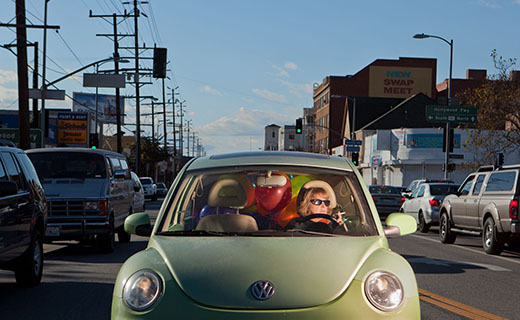 In his first museum exhibition, visual artist Jonathan Michael Castillo presents a collective study of Los Angeles and its residents. His photographs of people sitting in their vehicles, shot from the rear of his car, move between the familiar and the surreal. The photos feature individuals from all walks of life, their windshields offering a brief glimpse into their stories and lives: a woman in a green Volkswagen smokes a cigarette amid the party balloons filling her car. A couple stares straight ahead, lost in their own thoughts.

In Car Culture, Castillo is participating in a photographic tradition of documenting a way of life that is passing, enabling viewers to see a social life that is changing (or about to disappear). Now in a time when the foundation of the everyday has come a bit unmoored, his images take on a nostalgic hue – a signal to how his series will evolve over time.

Car Culture is both a study and interpretation of individuals who participate in the driving culture of the greater Los Angeles region. The space that these individuals inhabit while participating in this cultural behavior exists in a public space that also has a certain amount of perceived privacy. This perception serves to shield a vehicle's occupant from the surrounding public arena and bring normally private moments into the public space.

Castillo conceived of the Car Culture project as an undergraduate student at Moorpark College and began developing the series while attending California State University Long Beach.

"Car Culture is an effort to create portraits of an extensive and permeating culture that has a large group of members but often has little communication, interaction or bonds between individuals," Castillo said.
VISIT MUSEUM WEBSITE
So Cal Etsy Artisan Market
October 9, 2021
Enjoy various craft and artisan vendors at The Oaks on Saturday, October 9 from 10am to 9pm in the o...
Curbside Pickup Available*
Ongoing
Curbside Pickup Curbside Pickup is available for select retailers and restaurants. Contact the stor...