Current Exhibition: GIFTED
---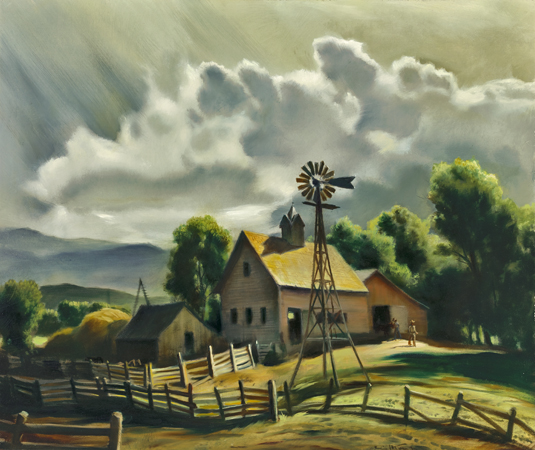 Over one hundred years ago, in 1919, an extraordinary art collection was born.

At the recommendation of their principal, the senior class of Gardena High School gifted the school with an original landscape painting by Ralph Davison Miller, beginning what was to become a unique, annual tradition.

For nearly 40 years, until 1956, each senior class selected, purchased and donated works of art to the school, ultimately amassing an exceptional permanent collection of paintings in the Impressionist, figurative and landscape genres. Each painting was carefully selected and purchased from an artist of note, often reflecting historical content from that year. The high level of sophistication demonstrated by the students' choices was the result of the aesthetic discourse and collaboration nurtured by the school.

Today, the Gardena High School Art Collection is widely acknowledged as one of the nation's outstanding collections of early 20th century California art, with works by some of the state's most celebrated artists. Through more than 50 paintings, GIFTED traces the history of Southern California art in the early 20th century, when plein-air painting and the Arts and Crafts movement were flourishing, and chronicles the school's ambitious efforts within the wider cultural scene of Los Angeles at that time.

CMATO is pleased present to present the Ventura County debut of this remarkable and timely exhibition, on view September 10, 2021-January 9, 2022.

GIFTED: Collecting the Art of California at Gardena High School, 1919-1956 is organized by the GHS Art Collection, Inc., in association with the Gardena High School Student Body, and curated by Susan M. Anderson.
Exhibition-related educational programming is generously supported by the Historical Collections Council.
LEARN MORE ABOUT CMATO
Curbside Pickup Available*
Ongoing
Curbside Pickup Curbside Pickup is available for select retailers and restaurants. Contact the stor...
School Cents
Now through May 31, 2022
The Oaks has contributed $178,550 to local schools in the School Cents program (including the initia...